Cycle-touring in Yunnan and Sichuan, China
June-August 2006
Trip Report
See also: photos, travel tips, river notes, equipment list, route map
Hil and Tom went cycle-touring around Yunnan and Sichuan provinces in SW China...
7-6-06 Arrived in Hong Kong and managed to get the bikes into a windowless hotel room the size of a wardrobe (including a space-saving shower/toilet combo!).
8-6 Applied for visas, then went to explore. It was too hot and humid and city-like for Hil so we ended up catching the bus to the beach. Found a curry house to eat in!
9-6 Collected our visas early in the morning, then took a series of trains to Guangzhou Dong railway station. I've never seen rain so heavy. Our cardboard bike boxes disintegrated. Kayaks are a lot easier to cart about on public transport! We managed to buy our soft sleeper class tickets but the train left the next day from a different station so we spent the night in Guangzhou.
10-6 24 hours on a sleeper train. Very luxurious except for being woken in the night because they'd found someone who could speak English to tell us we had to pay to take our bikes on the train. They also told us we would have many fires inside us from eating too many lychees. We ordered food in the buffet car by pointing at what other people were eating.
11-6 Bumpy sleeper bus ride to Dali, after having deep fried tofu and fried pond weed for tea from the street sellers in Kunming.
12-6 We thought the sleeper bus went to Dali but we weren't so sure when it dropped us on a pavement in a big city at 6am. The GPS confirmed that we were actually in Xiaguan. We assembled the bikes, which had survived the journey, then manged to fit everything in the panniers! Rode 18km along a mud road, then through some fields trying to find a better road, to Dali (this turned out to be the worst road of the trip).
13-6 Climbed up to the Cloudy Tourist Road on Cang Shan mountain -- an 11km pavement connecting two chairlifts. It was almost deserted as they haven't started running tour buses along it yet. Back in Dali we ate spicy soup made with small loaches cooked with the rest of the contents of their pond.
14-6 Set off to bike around Er Hai (ear-sea). We only got to Jiang Wei just north of the lake as we spent the day exploring the villages en-route.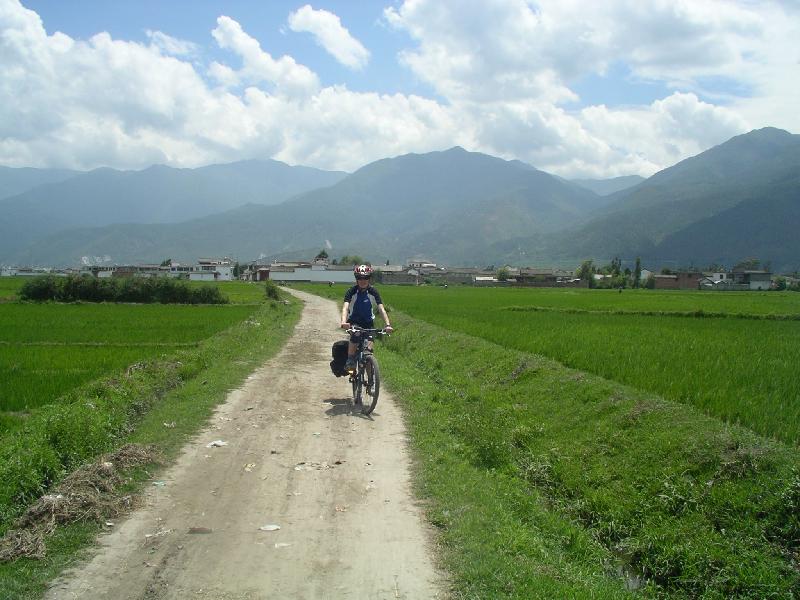 15-6 Short ride to Wase. Market day!
16-6 Biked the rest of the way around the lake back to Dali. Early in the morning the locals fish for shrimps and tiny silver fish from wooden rafts.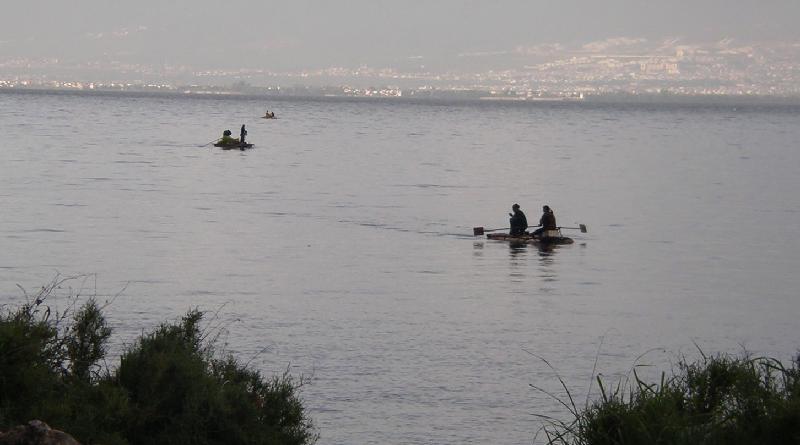 At the bottom of the lake the quiet back road suddenly turned into an equally quiet motorway, complete with flowerbeds down the central reservation, and more people sweeping it with tree branches than cars.
17-6 Rest day in Dali. English menus are available so more interesting food (pond snails and deep fried cheese).
18-6 Set off towards Lijiang, over our first big pass to a village with several hotels, none of which would let us stay (this was the only time we had this problem). After a lot of phrasebook-pointing we were directed to Lijiang, 100km away. We set off to find somewhere to camp but soon found the town of Songuan and a hotel.
19-6 Rode over two more passes and along a muddy farm track in the rain (Hil's idea) to Lijiang.
20-6 Rest day. The historic old town looked quite nice but too tired to explore it.
21-6 Another rest day (after attempting to bike to another old town at Baisha and getting lost).
22-6 Biked north towards Daju and Tiger Leaping Gorge. We checked with the hotel owner whether the road existed. It turned out to be another motorway, with each carriageway going a different way around a mountain (variety for the tour buses). 3200m up in the mountains chairlifts, imitation waterfalls, golf courses, oxygen-bottle shops and hotels were under construction but the more complete hotels were too expensive for us so we camped in the forest in the shadow of the East face of Jade Snow Dragon mountain.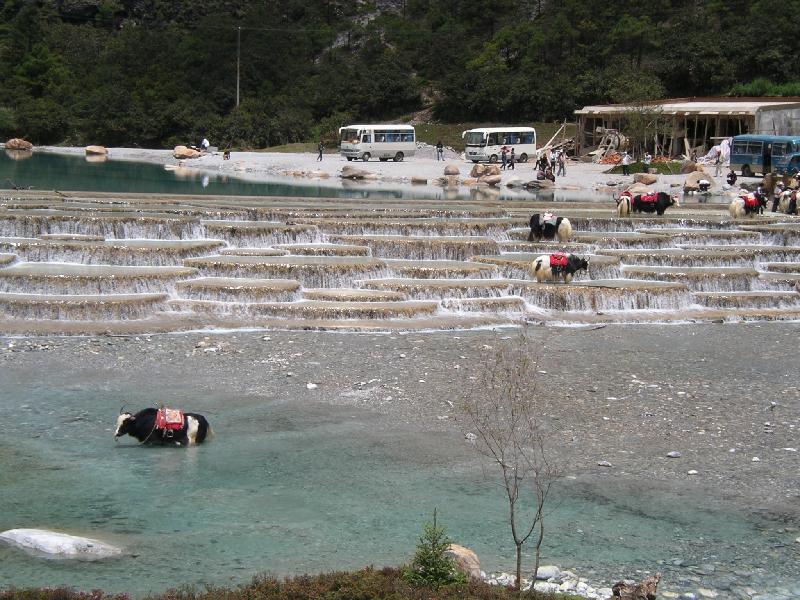 23-6 The motorway soon turned into a cobbled track that bumped down 1400 vertical metres of cobbles to Daju. After a dodgy dinner I managed to buy antibiotics from an elderly farmer with a medicine cabinet in the back of his barn.
24-6 After two hours of searching and much use of the phrasebook, we found the ferry across the Yangtze. A steep push up the other side and a short ride took us to the end of Tiger Leaping Gorge. We spent the rest of the day inspecting munchy rapids in the bottom of the gorge and cliffs towering high above it.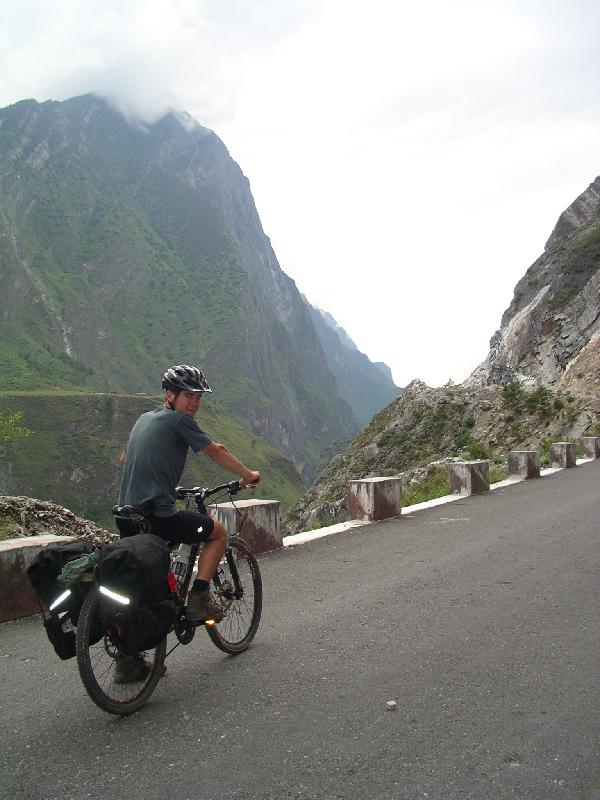 25-6 Short walk up to Five Fingers guesthouse on the high path.
26-6 Climbed high up the side of Haba Shan for spectacular views down to the Yangtze and across at the ridge on the other side. Haba Shan was in the clag so we didn't climb it (may also have something to do with it being a 5396m high gnarly alpine climb).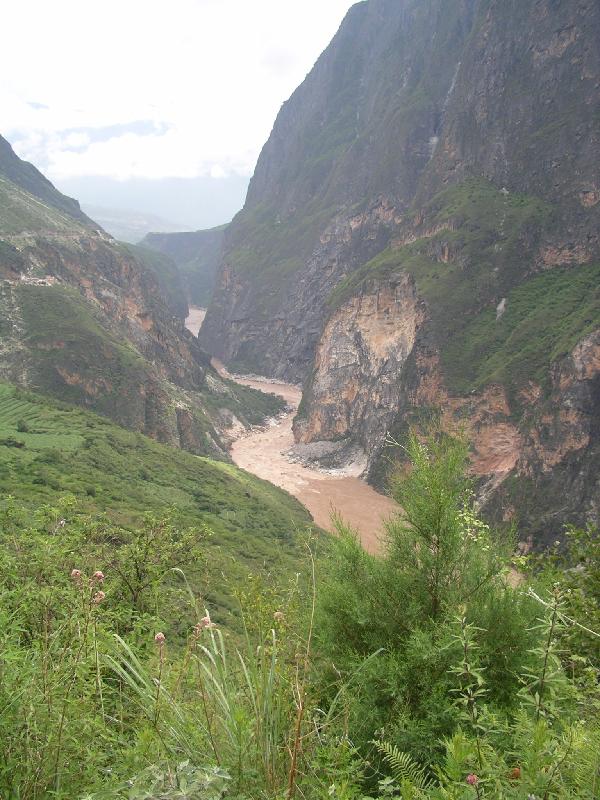 27-6 Finished the gorge walk and spent another afternoon watching the view and drinking beer. And avoiding the rabid dog some other trampers had brought with them.
28-6 Set off along the new back road to Zhongdian. The first day was one huge climb up to the village of Haba, where a cow was fetched to indicate that they had milk. It was then milked for us for breakfast!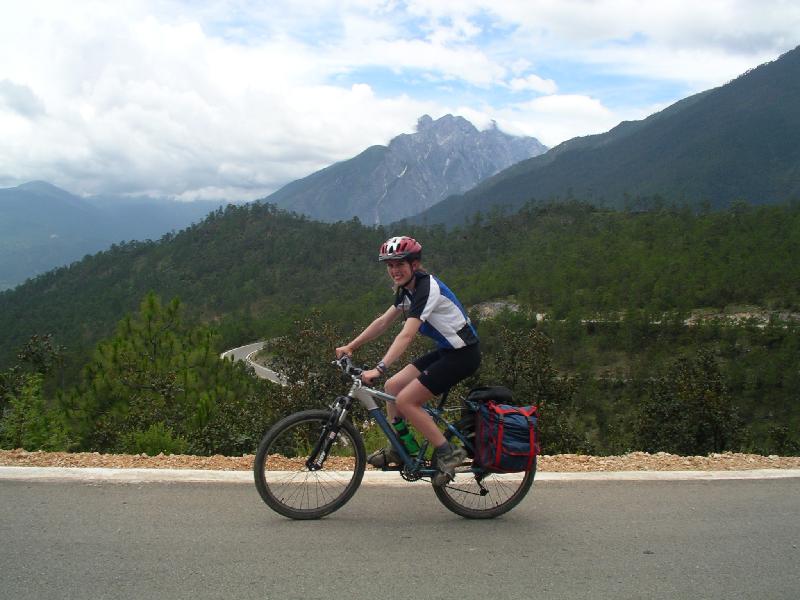 29-6 After losing the height gained on the previous day we had another huge climb. Slept in someone's barn and ate their pork fat soup at the foot of another climb...
30-6 ...which took us up to 3700m and eventually to Bita Hu scenic lake. We had hoped to find a tourist resort and hotel, but actually found one abandoned hotel occupied by the rowing boat hire man. After persuading him we weren't about to bike 50km to Zhongdian (it was getting dark and raining) he found a bed for us, and cooked us dinner (including more pig fat!).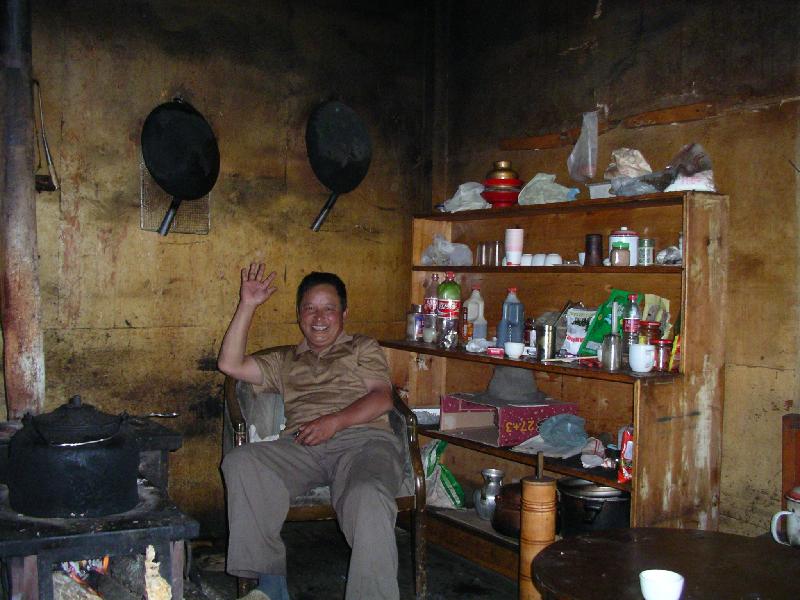 1-7 After taking a boat out on the lake we pushed our bikes back up to the road and freewheeled most of the way down to Zhongdian (now known as Shangri La – we were corrected if we ever used the old name).
2-7 Rest day. Hil never wants to get on a bike again!
3-7 Went to see a monastery that they are rebuilding now they've realised how many tourists it brings in.
4-7 Bus to Deqin, looking down towards the Lancang Jiang (Mekong) and the border with Tibet. I'm glad we didn't have to ride the passes en-route.
5-7 Climbed high above the town to some tops draped with prayer flags. We descended into an alpine valley full of wild flowers, then climbed the end of a long craggy ridge (4500m high but with cows grazing in the meadow on top!). Wild camped back down in the valley, with spectacular views across to Kawa Karpo and Meili Xue Shan (6809) in Tibet.
6-7 Walked back out to Deqin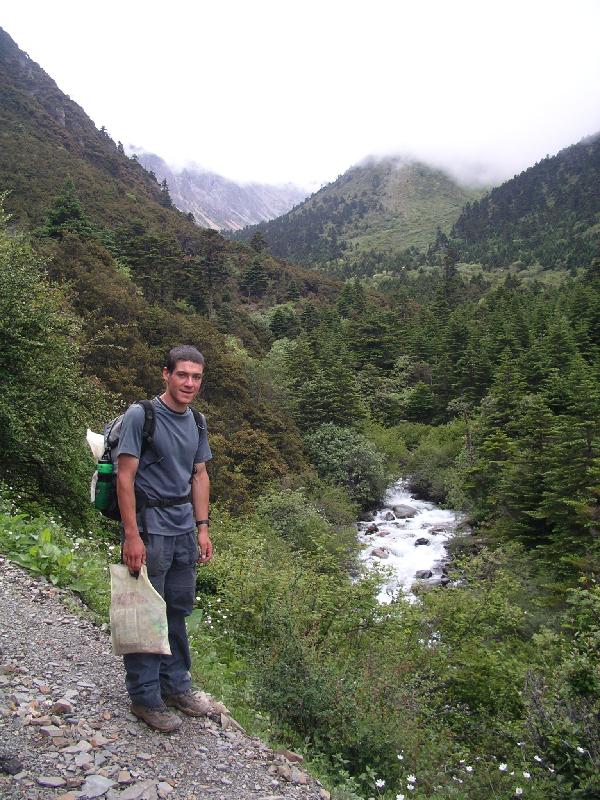 7-7 Bus back to Zhongdian
8-7 Hil decided she would only cycle downhill from Zhongdian (I wanted to head North directly into Sichuan over a 4km high plateau but was vetoed). Huge descent down to the Yangtze. Thunder was rumbling around the mountains but we managed to find a hotel before the rain started.
9-7 Gentle ride down the Yangtze to Qizong. There's some great sport climbing potential along here.
10-7 Hil was ill (weak vegetarian immune system) so I went for a ride up the side valley, enjoying not having to carry panniers.
11-7 Down the Yangtze again to Kaiwen (?) where after lots of miming that we wanted to stay in a hotel we were escorted to the police station. Fortunately it was just to fill in a form that allowed us to stay there legally.
12-7 Biked down the Yangtze (again!) to Shigu and the First Bend of the Yangtze (where it starts flowing North; there are plenty of other bends but they don't count apparently).
13-7 Several big passes (Hil chose the route) took us back to Lijiang
14-7 Rest day.
15-7 Set off towards Lugu Lake. A huge descent to the Yangtze again was followed by an 850m ascent on cobbles (Hil chose the route).
16-7 More passes and cobbles took us to Ninglang...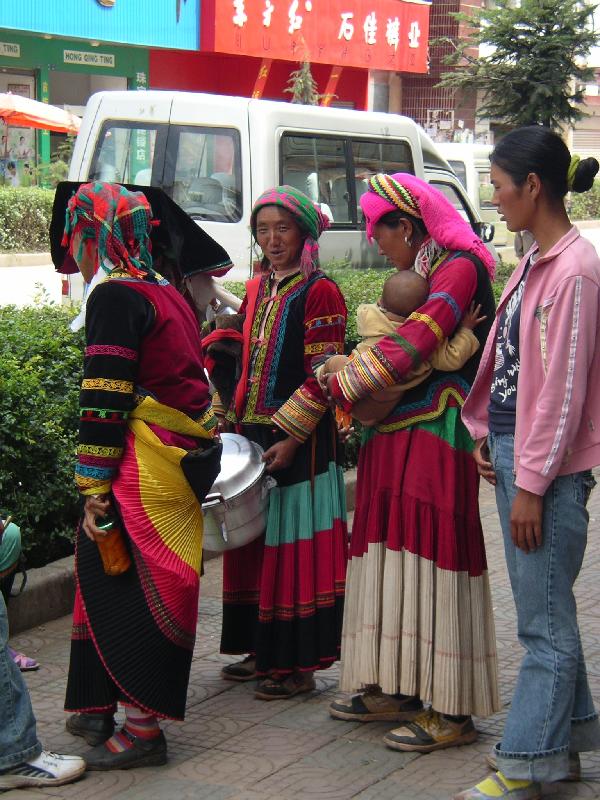 17-7 ...where we had another rest day! Ninglang had the best mangoes of the trip – we ate about 100 in total (not all in Ninglang).
18-7 Long hilly ride to Lugu Hua (lake). There was nowhere to stop and camp, and it was raining, so we pressed on and rode 93kms (Hil's longest day ever) and climbed 1700m. The village in the Lonely Planet didn't exist, but fortunately some locals took us in and fed us dried shrimps, pork fat (again!) and much needed mugs of jiu (Chinese vodka).
19-7 Rest day.
20-7 Tom went tramping up the hill behind Luoshi. Too tired to climb the bigger hill overlooking the lake.
21 to 24-7 Three buses and a hitch took us to Kanding in Sichuan. We bumped along a dirt road for 20 hours between Panzhihua and Ya'an; parallel to the road a 500km motorway was been built all in one go—concrete stilts were rising from every field and mountains were being demolished.
25-7 After looking round Kanding (also known as Shangri La) and climbing the hill behind town (with temple on top and views to 7556m high Gonga Shan) we rolled down the hill the bus had taken us up to the Dadu river. We stayed with a local family again and I had to politely eat pork fat again!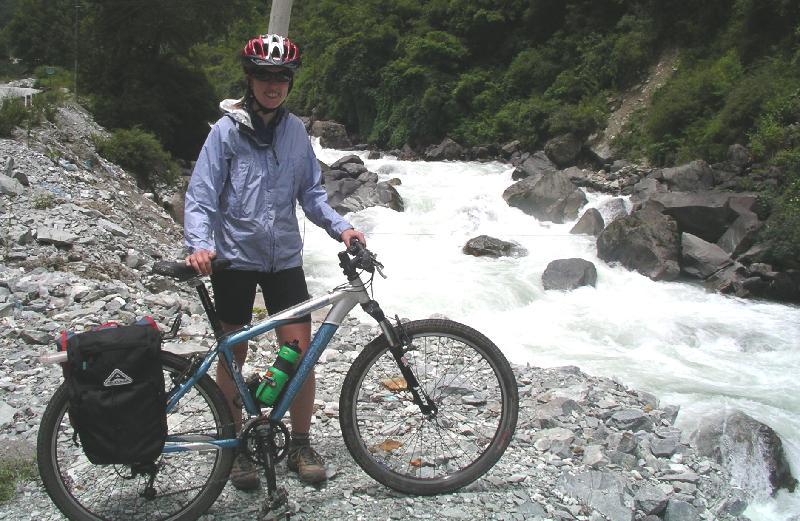 26-7 Rode up the Dadu to Kongyu. Kids shouted Laowai (foreigners!) as we passed, and threw firecrackers at us (great toy to give five year-old kids).
27-7 Hitched to Danba. Tom failed to climb a hill (they're all covered in thorny scrub) and went swimming in the river instead.
28-7 Biked to Xiaojin up a lovely quiet valley. Hil looked at the map and decided we hadn't actually climbed very far since Luding, so decided to stop before we did.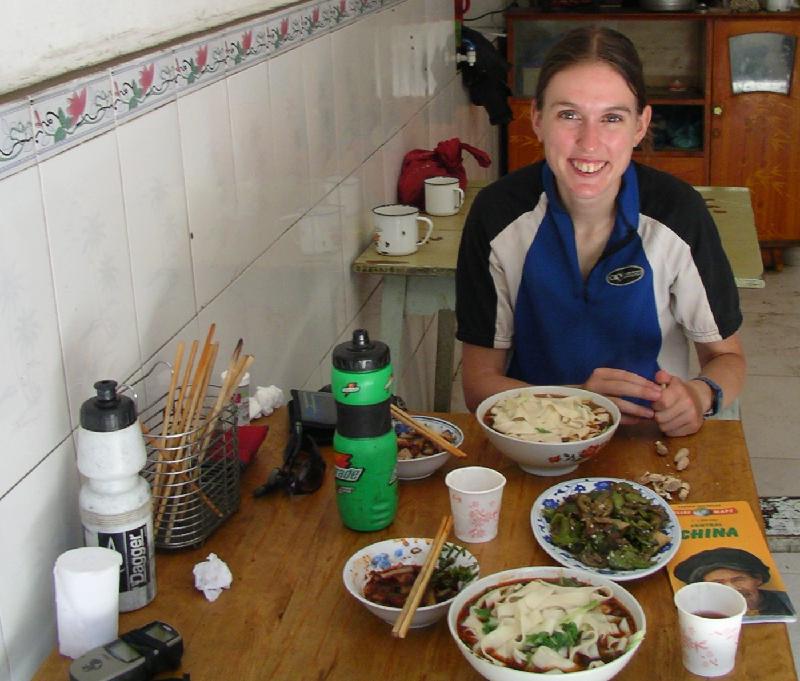 29-7 Tom biked to Rilong, Hil took a minibus.
30-7 Biked over Balangshan pass. Spectacular views of Siguniang Shan on the way up. The map claimed it was 4487m but the GPS thought 4260m. I still got the biggest descent of the trip down to Wolong. Total distance 1599km (999 miles), 13km ascent, about 200m more descent overall than ascent!
31-7 Pandas are very cool! Bus to Chengdu.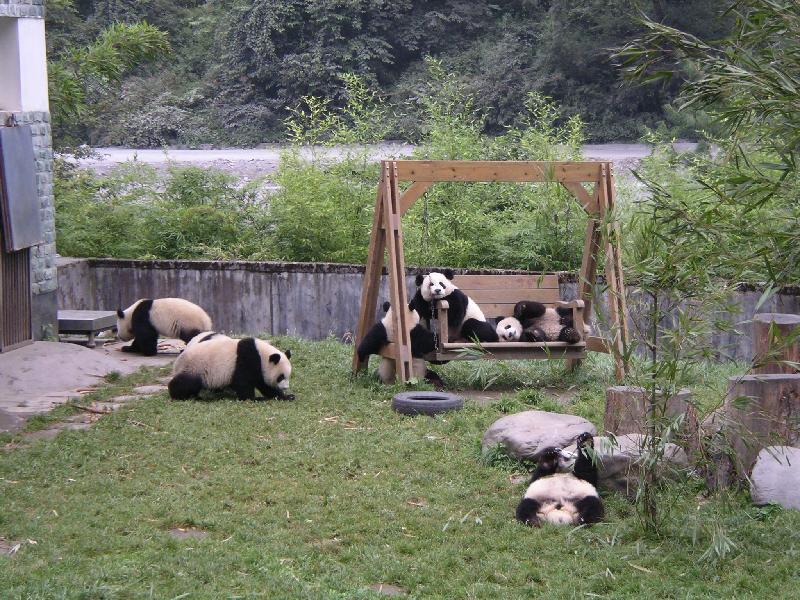 1-8 Interesting food in Chengdu (where they have typed menus so we can guess what we're ordering): hotpot (meat, fish, veg cooked in spicy chilli stock), inside-out sweet and sour fish, soy meat designed to resemble kidney and intestines.
2 to 5-8 We'd booked flights back to Guangzhou, so had a few days to spare so went tramping on Emei Shan. It is a holy mountain with stone paths connecting temples, fake waterfalls and chairlifts. It's very scenic and quiet away from the chairlifts but all starts to look the same after a while...
Went to see the biggest stone Buddha in the world in Leshan, although it won't be once they've finished building the biggest concrete Buddha in the world in the new tourist centre. It was almost as big as the biggest plastic Buddha in the world on top of Emei Shan.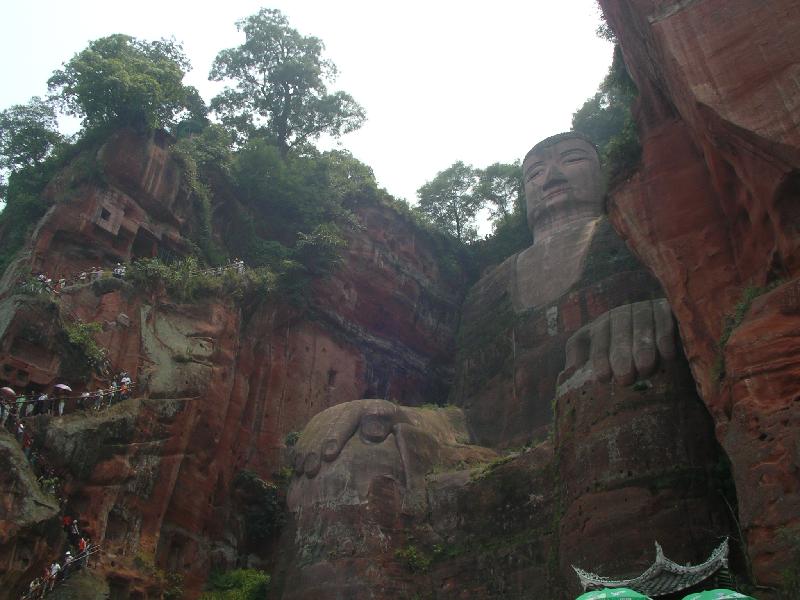 6-8 More hot-pot eating in Chengdu.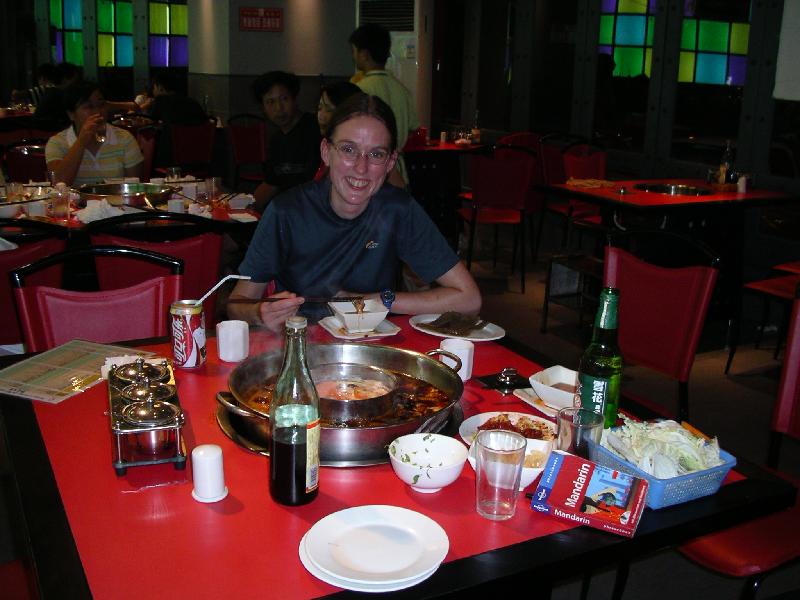 7-8 Flew back to Guangzhou. Air China don't take bikes apparently, even in bits in a box, but after arguing for an hour they were checked in as 6kgs of Fragile Excess Baggage for precisely the amount I had left in my wallet (about £20). More planes, trains, taxis and buses got us back to Cambridge the next day.
See also: photos, travel tips, river notes, equipment list, route map